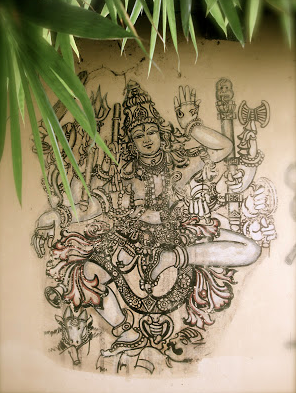 I was lying there on the upper floor of the dressing room, finally in rest after Mysore practice the other morning, when my mind began to wander.
My mat was slick with sweat, and I'd used one end of my towel to cover my eyes. I was perfectly still. I'm sure I looked serene. But, let's be honest, my thoughts had been wandering all morning. Though I find the exquisite power of dristie to be an incredibly useful tool to keep overall concentration in check, that unsettled mind of mine has some pretty elusive tricks.
But instead of scolding myself into a forced, shallow 'meditation,' I began to follow my mind. To watch it wander. And to play a sort of game: what could I unearth in the layers of my mind?
I followed my mind as it thought about food, what would be for breakfast, omelette or porridge? And then I said to myself: "Yes. Nice. You're hungry, and food will come. And what's beyond your hunger?"
I dug past the dull pain in my lower back, and left knee. Again: "Ok, and what's beyond your aches and pains?"
I dug a little further and missed my boyfriend and my family. "Yes, valid. You will be reunited and separated many times in this life. And then what's underneath that short-term longing?"
I played this game, allowing my mind to ramble through every distraction it wanted. I meandered around all of these temporary diversions and continued to pose myself this question: "but what's underneath that? What are you left with if you take that away?"
And, as I alluded in the title, I was left with gratitude.
It was as if I'd sifted through the mud and been left with a shimmering piece of gold. Thankfulness. I wrote about gratitude last year, when I was here in Mysore on Thanksgiving, but this fell a bit different. This didn't feel forced, it felt unearthed. It didn't feel circumstantial, it felt all-encompassing…
I smiled, and allowed myself to sink a little deeper into gratitude.
What are you left with?